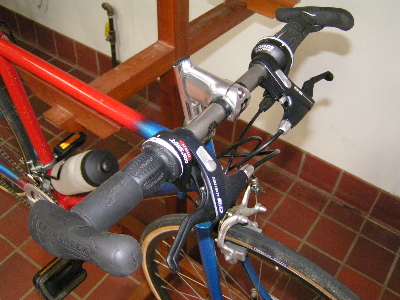 Back before the invention of mountain bikes kids rode smaller versions of their parents' ten-speeds. Every manufacturer of any size had one in their catalog. They usually had fairly fat 24x1-3/8 tires and stem-mounted shifters, which were always a concern in the days before click shifting. Mountain bikes have now taken over and have much safer controls for the small hands and shaky steering of beginning road users.
Unfortuately (we think) it's now impossible to find a light, zippy bike for the eight-to-eleven year old rider whose family loves to ride the roads. The old 24-inch bikes weren't lightweights, either, but they sure rolled a lot smoother than today's little knobby-tired bikes do.
We set out to build that bike for our son. We began with the carcasses of two hybrids and the last pair of Reynolds 531 seat stays we're ever likely to get (they were discontinued some years ago and replaced with 525 Cr-Mo in the Reynolds line). The frame was designed for quick handling. We custom-built the wheels with Sun 24x1 rims of the type you used to find on small-front-wheel Terrys and their copies. The cranks were a special challenge, as we have been unable to find a reasonably-priced supplier of 145 mm double-chainring cranksets anywhere. We cut down a used set and made our own. Gripshifts and SRAM composite brake levers with reach adjusters give excellent control without moving hands on the bars. The paint scheme was chosen by the owner himself: red and blue fade with prismatic sparkles.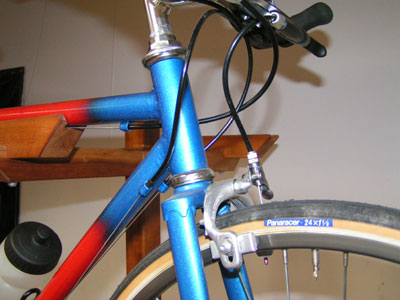 In retrospect, we'd probably have made the handling less twitchy. We have tried twice to switch over to drop bars using Weinmann Junior brake levers, but even these are too far to reach. It is very hard to make a bike to fit a growing child! We also tried cyclocross "cheater levers", with no success. We will probably try this again when he is 2 inches taller. For now, though, this is a pretty nice, 22 pound road bike for a nine-year old.
Parents note—
This boy began riding a Trail-a-bike at about 3-1/2, and has completed several bike camping trips that way. In spite of this road experience and reasonably competent bike handling on fat-tire bikes, he is still plenty shaky riding up a steep hill and we don't let him ride this bike without us on hand.